Ref:
Date:
Location:
Photographer:
Programme 2019-2020
Welcome to yet another exciting season of photography at the Grange & District Photographic Society!
Founded in 1903 we are still here, going strong and proud to present our Programme of events for the 2019 - 2020 season.
There is something for everyone in this year's programme, from ''just interested', to beginners and advanced, professional photographers, in a syllabus featuring talks by established photographers specially chosen to cover a wide range of interesting topics and subjects.
Following previous year's successful programmes, this year we are continuing to incorporate lectures given by our Society members and talks to provide guidance and training. This time we have 21 scheduled meetings, incorporating 12 talks from visiting speakers and 10 domestic meetings, including three photographic competitions, which we hope all members will participate in. Our Society meeting place is centrally situated in Grange-over-Sands in the Grange Methodist Church Hall (entrance is just to the left-hand side of the main church building), Kent's Bank Road, it is easy to find and you can be sure of a warm and friendly welcome (see Directions tab for a map). There is ample free parking adjacent to the hall and in nearby car parks (3-5 minutes walk). If you are interested why not come along? For a small admission charge, you can attend as a visitor initially; your visitor's fees will count towards your membership subscription should you decide to join us. Just come along on the night - enjoy a cup of tea or coffee and listen to some inspirational presentations! Our meetings normally start at 7.30pm and end at approximately 9.30pm.
Speakers Accreditations are Listed Below the Programme
Welcome to our 2020 session which begins on 6th January 2020
January 2020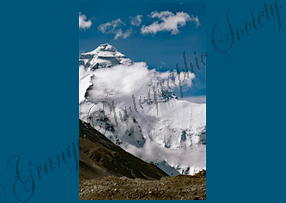 6th January
"Everest Basecamp"
Graham Whitwham ARPS
An account of a trek to Everest Base Camp.
13th January
"Image Improvement Night"
Lee Kitchingman DPAGB
"A chance to improve our images. Submit your digital images and Lee will discuss how they might be improved, with an eye to competitions (a maximum of 3 images per person which can be any subject, colour or monochrome). Bring your images along on the night on a pen drive or disc."
20th January
"Competition Night 2"
Alan Walker

OPEN COLOUR and OPEN MONO PRINTS - [NO DPIs]. 3 images per member per category [= 6 images max]. Nature prints are encouraged in each section as there is no separate nature competition. Entries must be submitted THE WEEK BEFORE (13th January 2020), together with a list of titles of the prints submitted.
27th January
"Diving Into History: The Scuttled German fleet at Scapa Flow [1919] & The Royal Yacht Mary [1675]"
Boyd Harris

Excavating the underwater wreck of the first Royal Yacht Mary. Sunk off the Skerries, Anglesey in 1675 and discovered in 1971. Excavations by Chorley and Merseyside Sub-Aqua Clubs. Also diving on the sunken wrecks of the German Fleet scuttled in Scapa Flow, Orkney Isles in 1919.
February
3rd February
"Photography for Profit, Points & Pleasure"
Alan Roberts

With the encouragement of family and friends Alan decided that he would try to sell his photographs – not as easy as one might think! But Alan has made a profit. Alan will also talk about the pleasure he has had from photography and will show around 500 images of his wide variety of subjects.
10th February
"Capital Focus. London a World city"
Francesca & Vernon Ross

'International City with hidden depths - there is more to London than red buses......'

17th February
"From Steam to Shinkansen"
Chris Wright

From historic steam locomotives to magnetic levitation bullet trains Chris takes us on a 10,000 mile journey across the length and breadth of Japan.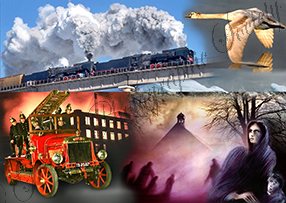 24th February
"The Magic Lantern Show"
Colin Balls

An Audio Visual spectacular by an internationally acclaimed AV specialist, who will show a number of different pieces that have won awards at International Festivals. By special request , he will include his superb and inspirational story about Wigan, amongst other diverse subjects..
March
2nd March
"A tour of Venice, inc photo techniques & photo logistics"
Mike Prince

Venice is arguably the most beautiful city in the world and heaven for photographers. Mike will share both his images, processing and tips for how to make the most of a visit there.
9th March
"AGM and Social Evening"
GPS Committee & Members
Prize Presentations and Social evening. The AGM to discuss the society's status, followed by the prize presentations and a chance to suggest ideas for the next season. Then tea, coffee and cakes.
End of 2020 Session. Our new, 2020-2021 session begins in October 2020

Speaker Accreditations
Colin Balls FRPS, APAGB
Lee Kitchingman EFIAP, DPAGB, BPE3*
Bernadette Kitchingman EFIAP, DPAGB, BPE3*
Melvin Nicholson LRPS
Carmen Norman LRPS, CPAGB, BPE1*
David Poole DPAGB
Keith Snell EFIAP, EPSA, LRPS
Richard Spiers DPAGB, APAGB, BPE2*
Alan Walker ARPS, MPAGB, EFIAP, MPSA
Julie Walker ARPS, DPAGB, EFIAP, EPSA
Graham Whitwham ARPS